Description
Bonjour, 
We have created a universal gimbal for GoPro® KARMA®. We are constantly improving drone functionality for enterprise applications. We are also finding new ways to jointly develop solutions that open up new applications for drone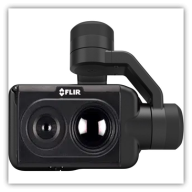 technology, don't hesitate to contact us.
This innovative dual thermal zoom payload provides a wide 95-degree field of view (FOV) for maximum situational awareness and a narrow 18-degree FOV to provide thermal images with crisp details. To support situational awareness further and allow search and rescue teams to make critical decisions quickly, the sensor offers 20x thermal zoom. Two 640 × 512 non-radiometric cameras leverage trusted resolution and image processing capabilities to record clear imagery with a full-featured VGA thermal camera module.
Eh bien, nous avons été aussi transparents que possible dans notre réponse.
Cordialement, ValorConseilCalvados